HOPE Partners with FEMA to Help Prepare for Disasters and Respond to Emergencies
Posted by
Allen Yekikian
on May 3rd, 2011 |
0 comments
As Financial Literacy Month was coming to a close last week, Operation HOPE and the Federal Emergency Management Agency (FEMA) on April 27 renewed a partnership agreement aimed at strengthening and expanding the financial counseling resources available to help individuals and families prepare for disasters and recover in the shortest possible time.
The full text of the Memorandum of Agreement (MOA) can be read here, while the official press release about the signing can be read here.
We are honored to renew this agreement with FEMA as it speaks to our core principles as an organization. One of our goals here at Operation HOPE is to helps individuals and families prepare for disasters and regain their financial health and economic stability after disasters and emergencies. Financial education, after all, doesn't start and end with simply the basics of banking and checking. At its core, financial literacy is about, preparedness, education, and responsibility.
FEMA underscores that exact point in a blog post on the MOA signing by Elizabeth Zimmerman, FEMA's Deputy Associate Administrator of Response and Recovery.
Disasters not only affect community infrastructure and public works, but they often overcome family finances, making recovery difficult and sometimes impossible. Before, during and after disasters strike, we work with a number of non-profit, voluntary and faith-based groups who specialize in getting disaster survivors financially back on their feet.
To assist FEMA in our nation's emergency management potential, Operation HOPE's
HOPE Coalition America (HCA)
division will provide access to free financial counseling and information for disaster survivors, including: Debt counseling, case management services, as well as workshops, seminars and manuals for people seeking help at disaster recovery centers.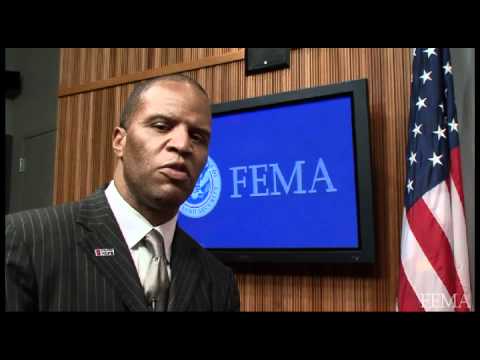 HOPE's Founder, Chairman & CEO John Hope Bryant remarks about the signing of this historic agreement on
his blog
and reflects on more than a decade of disaster relief provided by Operation HOPE.
We helped hundreds of individuals and families following 9/11, and then numerous hurricanes throughout Florida region, but the big response came in the backdrop of the devastating effects of Hurricane Katrina.  To date, HCA has helped more than 100,000 individuals tied to Hurricane Katrina alone, and even worked with former President Bill Clinton and his Clinton Foundation as we provided more than $14 million EITC (Earned Income Tax Credit) assistance to the residence of Gulf Port, Mississippi (this done in response to a specific request from our friend, the late Dr. Dorothy I. Height).
In conjunction with the signing, we will be hosting a special webinar with FEMA later today dedicated to 
Emergency Financial Preparedness
. The webinar, set to begin May 3 at 2 PM EST, will emphasize the importance of what it means to be financially prepared and how failing to be financially prepared for a disaster can create even more stress and anxiety than the disaster itself.
So what can you do to be financially prepared for emergencies?
Start by completing our Emergency Financial First Aid Kit, which can help you keep track of important documentation, like insurance policy information, so you have clear financial records that will help maintain stability in the event of an emergency.
You can find additional resources on financial preparedness, more on our partnership with FEMA, and information on helping your community prepare for a disaster at www.CitizenCorps.gov
Leave a Reply